The Latest Olney Real Estate Guide
The Susan Ellis Home Team real estate guide has everything you need to know, including current housing market stats, our favorite listings, upcoming properties, and more. Download the latest edition here!
Feb.-
March
Newsletter
Nosy
Neighbor
Newsletter
March-
April
Newsletter
---
Wizardly Wisdom
What to Do With All That Stuff
One of the biggest challenges for prospective sellers is what to do with all of the stuff that they have accumulated. The stress can be especially overwhelming for those who have lived in their homes for over ten years. Once this purging process has been completed, sellers have more energy and are ready to tackle the sale of their home. Decluttering makes staging, selling, and moving easier and less costly.
Helpful Tips to Declutter
Start Small: Begin with a single room, closet, or drawer that will offer immediate gratification once Start small. cleaned. I suggest starting on the highest floor of your home and working your way down
Tackle a whole room in a methodical way: Head to a corner, work on that area, and move clockwise until the room is completed. This might take several hours or days, but once you get into a rhythm you'll work harder to complete
Think in terms of categories: If you are overwhelmed by tackling an entire closet, start with one category. Pair up all your shoes, then purge the old ones. Then, move on to a new category such as belts, scarves, socks, or ties.
Love your thrift shop: Keep a box in a convenient place and add items to it that you're ready to part with. As soon as the box or bag is filled, take it to a local shop. 
Wear it or ditch it: If you haven't worn something in a year or two, give it away. If it's vintage and valuable, it may become a candidate for an estate sale or auction.
Forget repairing broken stuff: If you have stuff around the house that's broken, torn, or missing a part, get rid of it.
We love helping our clients accomplish their goals and have excellent resources of Personal Organizers, Movers, Storage Facilities and Charities for Donating.
---
Nosey Neighbor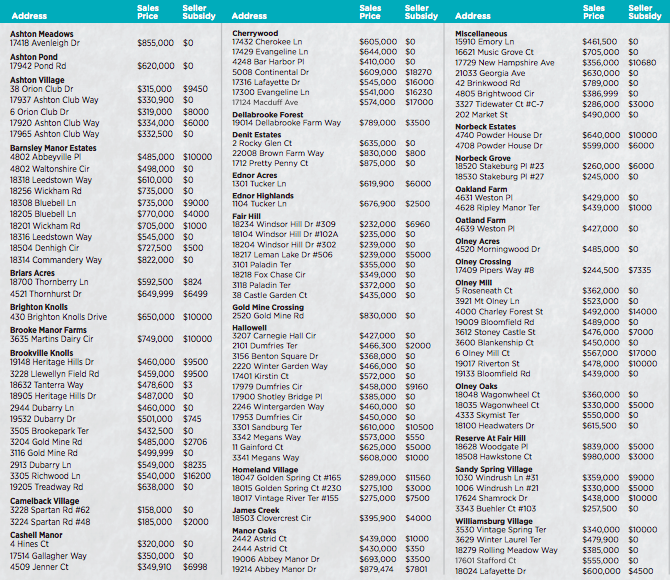 ---
Susan's Featured Listings
Homes That Are Selling Fast in Olney

---
Olney The Best Contractors
Carpet and Flooring
Carpet and Vacuum Expo
18167 Village Center Drive
Olney, MD
(301) 924-7331
mike@carpetandvacuumexpo.com
Painting, Wood Replacement & Power Washing
Ricagno Painting Company
Olney, MD
(301) 602-1760
Karen Ricagno
karen@ricagnopainting.com
RicagnoPainting.com
Electrical Services
Jay's Electrical Services, LLC
Derwood, MD
(301) 461-6241
Jay Rogers - jaynde@comcast.net
Licensed, Insured and Reliable
Home Inspection Services
Butterfield Inspection Services, Inc.
Brookeville, MD
(301) 570-3200
Merrill Johnson - Bisi96@verizon.net
butterfieldhomeinspection.com
Plumber
Peddicord Plumbing Services
Olney, MD
(301) 774-1227
Dan Peddicord - dantheplumber80@aol.com
Peddicordplumbing.com
Moving and Storage
Metropolitan Moving and Storage, LLC
Laurel, MD
(301) 279-0090
dcmetropolitanmoving.com
Local and Long Distance Service
Roofs, Gutters & Repairs
Welsh Roofing Company, LLC
Brookeville, MD
(301) 774-2167
Greg O. Welsh - WelshRoofing@verizon.net
Replacement Windows,
Vinyl Siding, Gutters & Trim
All Four Seasons, Co., Inc.
(301) 580-9399
(800) 394-6369
Phil Zlotnick - President
Sign Up For Our Newsletter
Stay in touch with us to get the latest updates on the Olney Real Estate Market, local events, news and more!